剑桥少儿英语第二级b
发布时间:2017-07-26 来源: 少儿英语 点击:
篇一:剑桥少儿英语二级上册测试题
剑桥少儿英语二级上册测试题
姓名:__________成绩:________
一.听音,在正确的图片下面括号里打"∨"。(12分)
1.2.
3.
( ) ( ) ()() () ()
4. 5.6.
.
( ) ( ) ( ) ()( ) ()
二、读一读,圈出正确的答案。(20分)
1.I(have got / has got ) a new pencil.
2.My father (have got / has got ) a red car.
3.Their bag are green, but(our / ours ) are yellow.
4.I often go to the ( café / coffee) to drink coffee.
5.Tom often (do / does ) homework at home .
6.You (must / mustn't ) pick flowers in the park.
7.He (like / likes ) reading books.
8.Sally is (tall / taller ) than Ben.
9.I (bought/ buy ) a book yesterday.
10.(Has / Have) your mother got a radio?
三、读一读,在给出的单词中选词填空(18分)
( cinema ,library, Art Room, Swimming pool, Café, zoo , music room, Computer room, bus station, )
1.This is a place(地方)where we can read books. ___________
2.This is a place where we can draw pictures._____________
3.This is a place where we can swim.__________
4.This is a place where we can drink coffee.________
5.This is a place where we can see films(电影).__________
6.You can sing songs here.________.
7.You can see animals here._____.
8.You can catch a bus here.______.
9.You can play computers here._________.
四、看图写单词,单词在下面括号里选择。(10分)
-------- --------- ----------- ——————————
———— ——— ———————— ————
(chair, rabbit, train, pizza, playground, hamburger, classroom, noodles, desk, soup.)
五、读一读,把英语短语和汉语意思连线(10分)
play the piano 开门 go swimming 堆雪人
draw pictures看电视 drink tea呆在家里
read books 画画 go to the zoo 去游泳
watch TV读书 stay at home去动物园
open the door 弹钢琴 make a snowman 喝茶
六、读问句,给问句选择正确的答语,并把序号填在括号里。(10分)
()1. Have you got a good friend? A.I went to the zoo.
()2.Who is this girl? B.He is reading books.
()3.Is this your book?C.It's behind the library.
()4.Where do you sing songs? D.Yes, I can.
()5.What's the Chinese for " elephant"?E.It's black and white.
()6.What colour is your T-shirt? F. It's "daxiang"
()7.Can you draw a horse? G.Ising songs in the music room.
()8.Where is the bank? H.Yes,it's mine.
()9.What is Tom doing?I. She is my sister, Jane.
()10.Where did you go yesterday? J.Yes her name is Betty.
七、情景交际。(10分)
1、当别人帮助了你,你应该说:
A、You are welcome.B、Thank you.
2、如果你想试一试,你说:
A、Let me have a try.B、let me help you.
3、你想知道小明多久吃一次汉堡,你这样问:
A、Do you like eating hamburgers,Xiaoming?
B、How often do you eat hamburgers,Xiaoming?
4、当你想知道你的英语书在哪儿,你应该这样问:
A、Excuse me,Where is my English book? B、What colour is my English book?
5、如过你想知道一周有几天,你可以这样问:
A、How many days are there in a week? B、What day is it today?
八、阅读短文,判断对错。(10分)
My name is Li Ming. I am ten years old. I am in Class 1,Grade(年级)4.II like English and math. I like playing football. I like rabbits very much. I can fly a kite and ride a bike. I go to school by bus. My English teacher is Miss Li. She is tall and thin.
1.Li Ming is twelve years old. ( )
2.He likes math and Chinese.( )
3.He can ride a bike and swim.( )
4.He goes to school by bus.( )
5.His teacher is tall and strong. ( )
篇二:剑桥少儿英语二级BUnit4
Miss Wu Cambridge Yong Learners English test for Movers (B)
Unit4 I can see with my eyes.
单词:
clean打扫brush刷use使用
special特殊的smell闻动物:
taste品尝 touch触摸hear听
leaf树叶(复数leaves) crab螃蟹
grow生长flat平坦的ground地面upwards向上similar相似的
1、animal 动物2、bird 鸟 3、cat 猫4、chicken 鸡5、cow 奶牛6、crocodile 鳄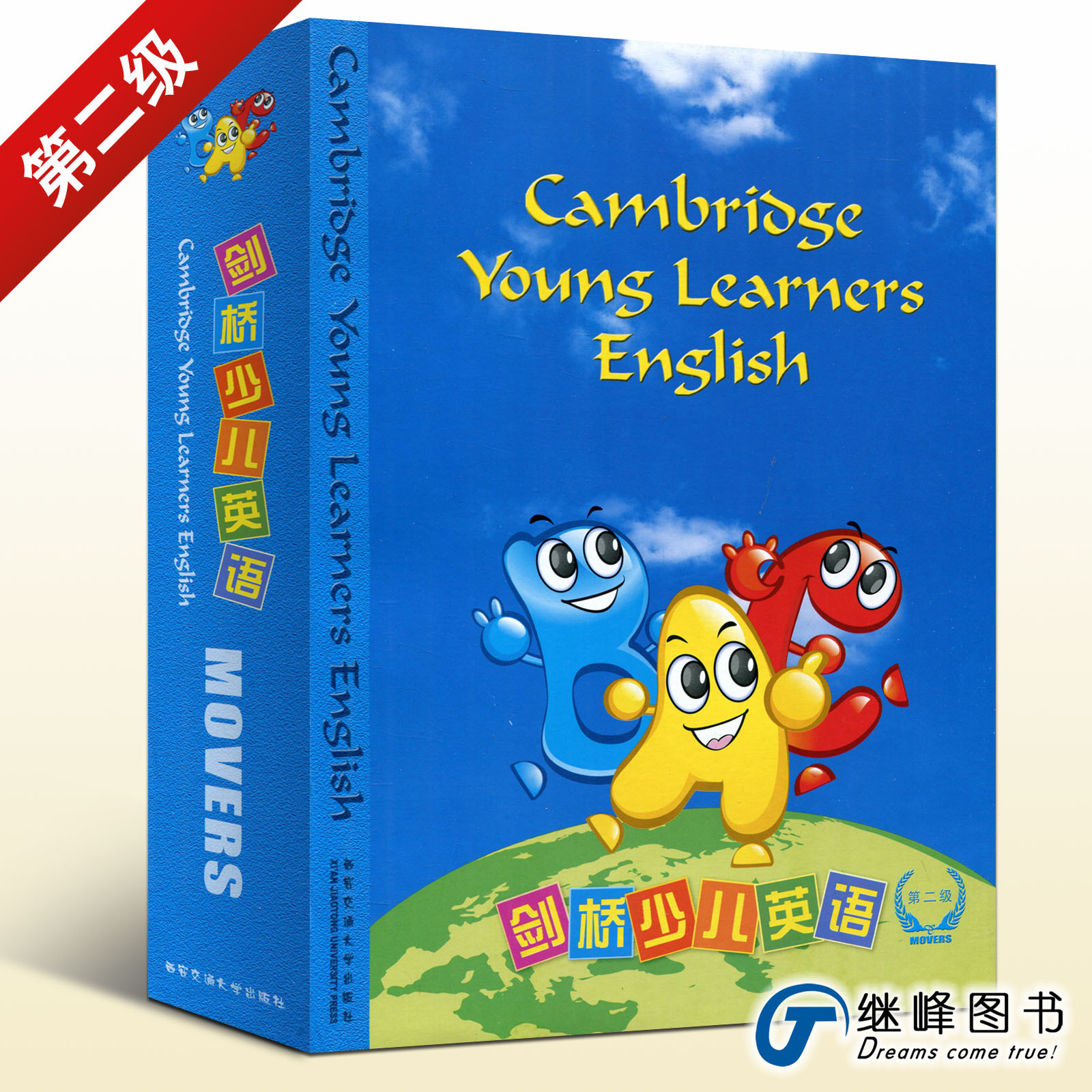 鱼 7、dog 狗 8、duck 鸭子 9、elephant 大象 10、fish 鱼 11、frog青蛙12、giraffe 长颈鹿 13、goat 山羊 14、hippo河马 15、horse马 16、lizard 蜥蜴17、monkey猴子 18、mouse (mice)老鼠 *19、sheep 绵羊20、snake 蛇21、spider 蜘蛛 22、panda熊猫 23、tiger 老虎 24. bear熊 25、zebra斑马 26、chick小鸡 27、hen母鸡 28、rabbit兔子
词组:
clean the elephant with a brush用刷子刷大象
smell the flowers with the nose用鼻子闻花香
get things 得到物品 can hear 能听见 can smell能闻到can taste 能品尝can touch能摸到 can see能看到
put them down把他们放下 paint the picture 画画 a big brush 一把大刷子 smell the soup 闻到汤 listen to the music 听音乐 touch the rabbit 摸兔子
hold the newspaper 拿着报纸 wash the socks 洗袜子 some washing powder taste the ice cream his tongue
climb the tree write the letter have a party
a mask of a horse一匹马的面具 wear the mask戴着面具
a paper plate一张纸板
eat snacks吃零食
a white caterpillar一条白色的毛毛虫
a long stocking一个长筒袜
句型:
1. I can clean the elephant with a brush. 我可以用刷子清洁大象。
2. This animal uses its legs to catch food. 这种动物用它的腿捕捉食物。 3. I can smell the flowers with my nose. 我可以用我的鼻子闻闻花香。 4. What body parts does a plant have? 植物有哪些身体部分?
原形-过去式: write-wrote 写 hold-held拿
paint-painted绘画 smell- smelled闻 listen- listened听 touch-touched摸 wash-washed洗 taste-tasted品尝 climb-climbed爬 see-saw看见
1
篇三:剑桥少儿英语二级第十课
Unit 10 Did you know?
单词:
最~(the + 形容词 est.)
最高 the tallest 最长the longest最快fastest/quickest 最大the biggest
最矮shortest 最瘦 thinnest
电梯the lift地下室 the basement
阳台the balcony 大衣the coat肩膀the shoulder 句型
1.继续学习比较事物的不同
哪一个教室干净点?(在两个之间比较)
Which classroom is cleaner?
哪一个教室最干净?(可大于等于三个)
Which classroom is the cleanest?
2.你有多高?How tall are you?
我有1米5(150厘米)
I am one hundred and fifty centimeters tall.
3.你可以选择去做什么。
You can choose to read/paly/watch TV
相关热词搜索:剑桥 少儿英语 剑桥少儿英语二级教材 剑桥少儿英语二级上册